TIMES SINGAPORE, JAKARTA – August is a festive month for Indonesia as Indonesians commemorate the Independence Day in August. This year, Indonesia celebrates their 76th Independence Day on 17 August 2021. To celebrate this special month, Quest Hotel Darmo Surabaya presents two exclusive dishes, namely Sate Gogos Kemerdekaan and Es Semangat Merah Putih.
Sate Gogos Kemerdekaan is scallop satay served with some grilled glutinous rice, peanut sauce, sambal, and vegetables. This menu is inspired by the indigenous food from Sulawesi.
Scallop satay in Sulawesi is also known as 'pokea'. First, the scallop is boiled, then grilled in some seasonings and herbs. This satay is served with 'gogos', the indigenous food of Sulawesi made of glutinous rice, filled with fish or chicken and wrapped in a banana leaf. However, 'gogos' served in Quest Hotel Darmo Surabaya is a little bit different from the original one, as it does not have any fillings.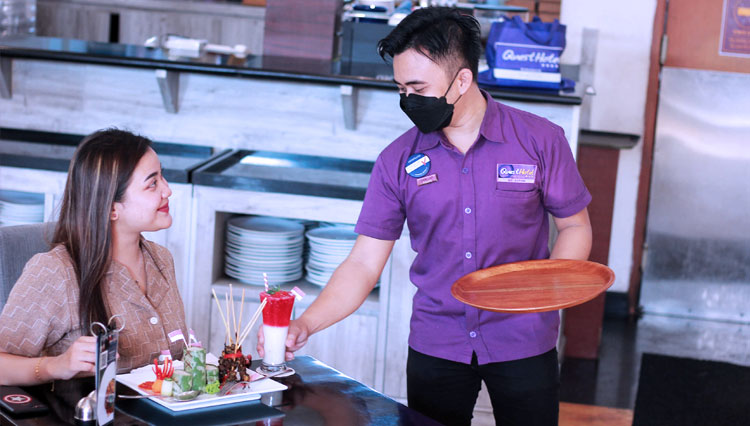 The waiter is serving the customer at Cristal Café Quest Hotel Surabaya. (PHOTO: Public Relation of Quest Hotel Darmo Surabaya)
Quest Hotel Darmo Surabaya also serves special beverage to celebrate the Independence Day of Indonesia called as Es Semangat Merah Putih. This special beverage is a combination of fresh strawberry juice and milk and yogurt in the lower layer.
Sate Gogos Kemerdekaan and Es Semangat Merah Putih can be ordered for dine in or takeaway, starting from IDR 17,845. This exclusive menu is available until 31 August 2021.
"Sate Gogos Kemerdekaan is a must to try as it is inspired by one of the most popular Sulawesi foods. Besides, Es Semangat Merah Putih is a refreshing beverage that will make you feel more rejuvenated," said Rara, one of the customers at Cristal café in Quest Hotel Darmo Surabaya. (*)
| | |
| --- | --- |
| Writer | : |
| Editor | : Tiara Dewanti DJ |